Hey, we are Trof, your Corporate training provider & hiring consultant.
We provide multiple services that include corporate training for upskilling your employees or finding you trained individuals that are as good as those who receive corporate training.
And that basically makes us your one-stop solution!
ALONE WE CAN DO LITTLE, TOGETHER WE CAN DO SO MUCH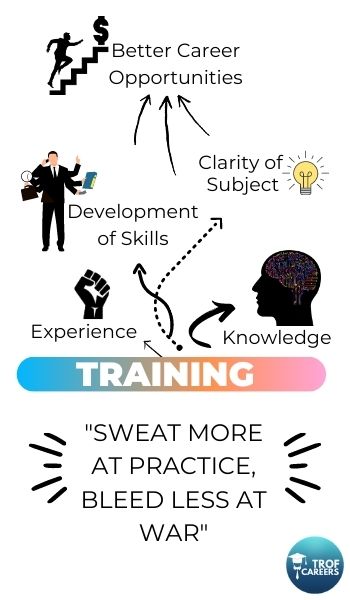 USE OUR CORPORATE TRAINING SERVICES
How many times have you trained your employees and not received the desired results?
There are tens of companies wanting to invest in upskilling their employees but are not achieving the desired results. Our research has found just the reason you could be looking for: BASICS !
Yes, just as simple as it sounds, the complicated it could be.
A lot of employees (specially who have come fresh out of universities) are not equipped with basics due to the education system. 

They are unable to upskill from level 1 to level 2, because they are still stuck between level 0 and level 1.
Now, for obvious reasons they cannot tell you this. We expertise in skill building for individuals on basics
Whether it is Finance, Tax, GST, Sales, Digital marketing, Banking, MS excel/ word/ ppt, personality development or any other segment.

Our approach is fully practical.

We customize the training depending on your Company's needs, team and system.

Value based metrics to track performance of training
So, Let's together ensure we give a platform to all those who couldn't have found an opportunity to upskill on the basics and are stuck to move to the next level.
You train a fresher on the job and the investment made is blown away as the fresher moves to another Company!
Sounds similar? We understand the difficulty in training a fresher and letting them go.
Let's make things simpler for you.
What if you do not have to train a fresher on the basics?

Reduce the time taken to train your employees by hiring trained ones

All you have to do is Drop in your vacancies & we'll find you a trained fresher.

We might train one for you and won't let you know!
Our aim is to have: India's largest community of trained individuals.
So drop in and find trained individuals here!